Access Bank Loan: Best Way to Get Loan From Access Bank
The Access Bank Loan
Getting a loan in Nigeria is inevitable, whether it's from a loved one or an institution; almost everyone probably has a story where they had to obtain a loan.
The Access bank loan is designed to finance that need which made you request for it in the first place.
Types of Loans Offered By Access Bank
 Creative Sector Loans: This is a Central Bank of Nigeria loan that is designed for capacity building and provision of employment for individuals and businesses into industries like fashion, information technology, movie production and distribution, music, and so on.
Lending Against Turnover (LATO): This is an instant loan product that targets non-salary account holders who already have a relationship with the Bank for over six months and above. This type of loan requires no documentation or collateral from the recipient and lasts for 30 days. You can conveniently apply for this type of loan using the Access Bank loan code – *901*11*1#. See USSD code for loans in Nigeria.
Personal loan: This type of loan targets employees to empower their needs through a salary administration product. It is flexible, and lasts for 36 months.
Salary Advance: The Access Bank salary advance provides employees with access to up to 100% of their net monthly salary. It requires no documentation or collateral and can easily be applied for through their quick bucks app or USSD code. The individual is to repay within3 months.
Get a loan up to N100,000 at the best affordable rates in Nigeria
Now you can compare interest rates from different lenders with our loan simulator and get the best deal. Making an informed loan decision requires comparing different loan offers before making a commitment. Through our simulator, you can see at a glance, loan offers coming from different lenders in less than 5 minutes, so you can make the right decision regarding your financing. Try it today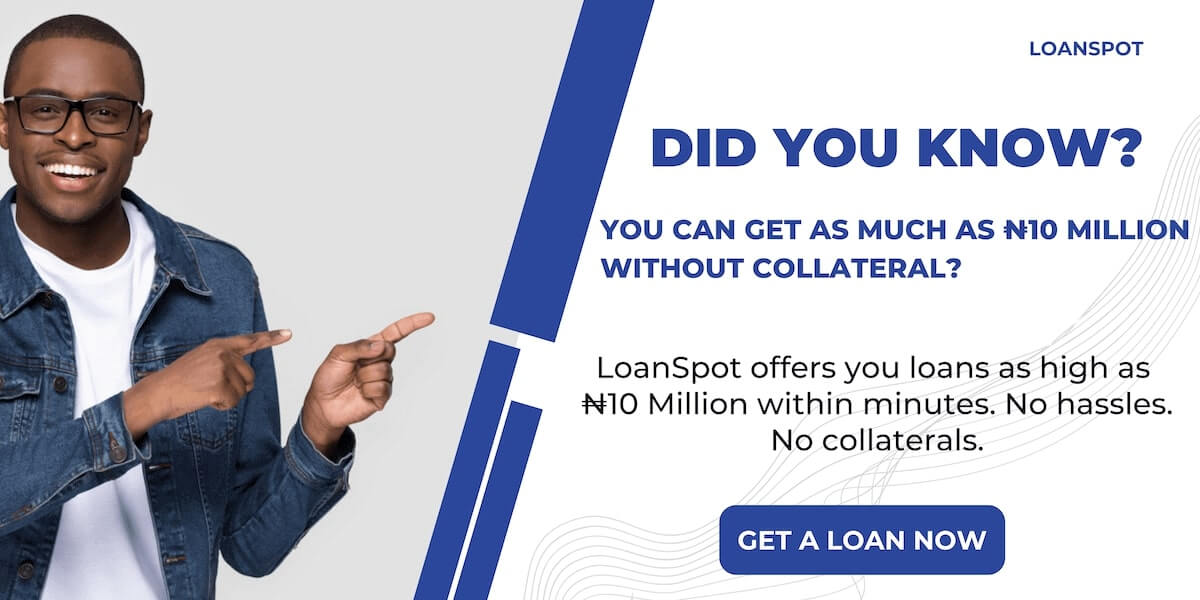 ---
Small Ticket Personal Loan: For this type of loan, Access Bank offers up to 400% of your net monthly salary. You will be expected to repay this loan within 12 months.
W Power Loan: This unique Access Bank loan product helps close the financing gap for female-owned businesses. W Power Loan provides them access to loans and credit facilities.
Advance for School Fees: As a parent or guardian, you can borrow to pay your child/ward's school fees. This type of loan also allows you to borrow to pay for professional courses and certifications.
Device Finance: This is an Access Bank loan scheme designed to help you finance the purchase of mobile devices.
Maternal Health Service Support (MHSS): This loan is designed to finance birth and fertility related procedures.
Vehicle Finance: If you have been looking for a way to acquire a new car conveniently, Access bank vehicle finance loan gives you the money you need to make this happen. It is open to salary earners, SME owners, and Corporate organizations. You get access to a wide variety of vendors, and you're to pay back the loan within 48 months.
To make things easier and also ensure you go with the best decision for your needs, you can make use of this platform to compare loans from different lenders in a matter of minutes. This is the best way to weigh different pros and cons and make an informed decision accordingly.
Access Bank Loan Requirements & How to Borrow Money
For the creative sector loan, you need a business plan or a statement of how much you need for your business
To secure the LATO loan, small ticket personal loan, and the salary advance loan, you need a phone number that is linked to your BVN, and evidence that you received salary payment in the previous month
For a personal loan, you need a completed application form, a completed employer's confirmation form, a copy of your employment ID, BVN (see how to check BVN), credit checks, and a letter of lien.
To access a W power loan, the business must be 50% female-owned, must have been in operation for a minimum of 1 year, and a minimum staff strength of 2 people
For an advance for school fees, you need a duly completed application form, a duly accepted offer letter, school fees bill/invoice in the name of the student, a valid ID card, and a recent utility bill in the last 3 months
How to Pay Back Access Bank Loan
When you receive a loan from Access bank, they will duly inform you on how to repay the loan.
For most of the products, you will pay monthly installments after about 30days of receipt. This amount is automatically deducted from your account every month, to save you from the stress of visiting your banks.
This is not just peculiar to Acess bank. It is the same method adopted for Zenith Bank loan, and so on.
Frequently Asked Questions
Frequently asked questions on access bank loans include:
1. What happens after your loan is approved?
After your loan is approved, you usually get imbursed within 24 hours. However, this duration could be more depending on the bank or lender involved. Also, you might need to provide certain documents for some banks, before you're able to withdraw the funds.
Loanspotafrica still holds one of the quickest disbursements when it comes to loans, as you can obtain your funds minutes after the loan approval.
2. What is the loan application fee?
Loan application fee is the percentage lenders tend to charge during the process. It usually varies from 0.1% to 5% or more. In recent times, most lenders tend not to charge loan application fees anymore in a bid to attract more customers. Platforms like loanspotafrica do not charge any loan application fees at all and offer some of the best loan services today.
3. What will happen if I wasn't able to pay back at the right time?
The exact penalty that follows being unable to pay back at the right time depends on your agreement. Usually, the penalties are stated in the loan terms and conditions and are enacted once there's a default. Most lenders either increase the interest percentage or sell off collaterals. Access bank automatically deducts the due sum from your account on the due date.
On the bright side, loanspotafrica do not require collaterals and don't take brute force in enforcing repayment after the deadline passes. This is why they run a flexible repayment structure that ensures you almost never miss the deadline.